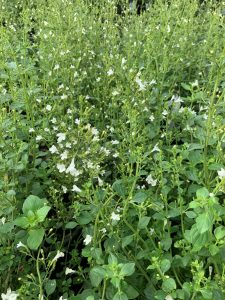 Nearly every gardener that has visited the nursery this year has spoken about the uptick in rabbit and deer damage this year. The rabbits are ravenous and the deer are nearly impossible to keep out, short of installing a professional farm-grade border fence. These animals have become more than an nuisance – they are a serious problem.  Year after year, the list of plants deer and rabbits won't destroy has gotten much shorter.  Russian sage, catmint, lavender and grasses are still mostly reliable (although we had a whole crop of catmint eaten early this spring).  Another favorite of ours is calamint, Calamintha nepetoides cvs.  
The fuzzy, menthol-scented leaves of this plant make it highly resistant to rabbit and deer browsing.  And it blooms for months – seriously!  This compact plant is covered in tiny white or blue flowers from mid-summer well into the fall.  It makes an excellent groundcover, planted en masse, but also looks great in the front of mixed perennial borders.  Calamintha does seed around a little bit, but I've never felt it to be a problem.  Another consideration with this plant is how late it is to come up in the spring.  Because it is one of the last perennials to get going, I often plant it closer than recommended so that I get the coverage I want earlier in the season.  If you want to get the best out of this plant, site it in a sunny location with well-drained, healthy soil.  There are several cultivars available for sale, with newer introductions entering the market recently.
Calamintha nepeta subsp. nepeta:  Icy blue/white flowers.  Fuzzy leaves.  Spreads a little more readily than others as stems root along the edges of the clump.  1-1.5′ tall.
Calamintha nepetoides 'Montrose White':  Clear white flowers that appear icy blue in cooler weather.  Less prominent fuzz on the leaves.   Leaves appear darker green than other varieties, setting off the flowers well. 1-1.5′ tall.
Calamintha nepetoides 'White Cloud':  Clear white flowers.  Fuzzy leaves.  1-1.5′ tall.
Calamintha nepetoides 'Blue Cloud':  Very similar to white cloud, but with icy blue flowers.
Calamintha nepetoides 'Marvelette Blue':  The largest and most saturated flowers we've seen on a Calamint so far.  Earlier flowering than other varieties.  8″ tall.