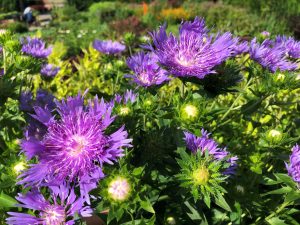 There are so few plants that have a true blue flower in the garden – there seems to be loads of magentas, indigos, purples and violets; but so little blue.  Powder blue, in particular is very hard to get into the mix.  There are some annuals that have just that sort of blue, like Salvia uliginosa, and Tweedia, but most perennials have a purple or pink undertone to their "blue" flowers.  Stokesia laevis 'Peachie's Pick' is in this vein, but it is very close to sky blue, to my eye.
These dependably perennial plants have glossy, thick medium green leaves that form a pleasing mound during the spring and early summer.  In high summer many flower stems arise from the clump, reaching about 18″ or so tall.  The entire plant is covered in aster-like flowers when the buds open, slowly over a period of weeks on sturdy stems. 'Peachie's Pick' also looks great in a vase, so consider adding her to your cut flower selection.
Plant this beautiful but tough plant in good, but well-drained soil in full sun, and enjoy it for years to come!