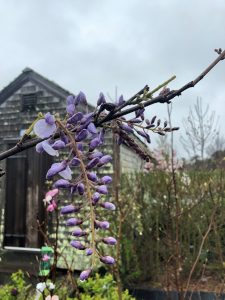 I've spent many, many hours on ladders and on top of roofs and pergolas as a professional gardener on Nantucket.  The bulk of those hours have been spent on rose care, but pruning and training wisteria is actually one of my all-time favorite garden tasks.  This graceful, spring-flowering vine requires a lot of work to keep in bounds and looking its best.  This is especially true of the Asian varieties, which are quite a bit more rampant than their North American cousins.  Although there are many cultivars and hybrids, Asian wisteria can generally be separated into to groups: Japanese and Chinese.
Japanese Wisteria, Wisteria floribunda
Flowers open over the course of days, starting at the top of the cluster.  Tendrils twine counter clockwise.
'Black Dragon' aka 'Violacea Plena' aka 'Yae Koburyu':  Deep purple double flowers
'Domino' aka 'Issai':  Lilac blue flowers
'Lawrence':  Pale lavender flowers
'Longissima Alba' aka 'Siro Noda':  Long white flowers
'Snow Showers':  White flowers
'Honbeni':  Pink flowers
Chinese Wisteria, Wisteria sinensis
Flowers tend to open all at once.  Tendrils twine clockwise.
'Blue Moon':  Bicolor blue flowers
'Caroline':  Very fragrant, bluish purple flowers
'Cooke's Purple:  Fragrant, bluish purple flowers
'Jacko':  Selection of Alba; very fragrant, white flowers
'Prolifica':  Bluish violet flowers
'Royal Purple':  Deep violet flowers
If you're interested in how to prune these vines, check out our articles and Youtube videos on the subject:
Video – Summer pruning of Wisteria
Video – Winter pruning of Wisteria
Article – Summer Pruning How-to