Having been in business for 25 years on Nantucket, we have seen many trends in the islands' landscape community come and go.  When I started at the nursery 14 years ago, there was a huge demand for 'Knock Out' series roses, for example – but today we only sell a modest number of shrub roses of any type.  When I was actively landscaping, many projects called for broad swaths of hydro-seeded, exotic, love grass but now (thankfully) landscape architects are using a wide variety of native grasses for those applications.  In fact, incorporation of native grasses, shrubs and perennial plants in the landscape is a massive trend that we don't see slowing down.  Unfortunately, we've also seen an incredible increase in deer pressure across the island, which has spurred the movement toward planting only the most deer-resistant plants available.
We've seen that many of the native plants recommended for our climate are no longer deer-resistant at all.  For shrubs, we still recommend Myrica pensylvanica (Bayberry) and Baccharis halimifolia (Groundsel) as the backbone of a native planting plan.  Native grasses like Panicum virgatum (Switch Grass), Schizachyrium scoparium (Little Bluestem), Sporobolus heterolepsis (Prairie Dropseed) and Deschampsia sps. (Hair Grass) are a good choice as well.  Recently, I've been impressed with the various species of Pycnanthemum (Mountainmint) for good deer and rabbit resistance.
There are several species of Pycnanthemum in the trade that can be planted in a variety of conditions.  All are native to North America, and attract a wide variety of pollinators.  They look great mixed with other native plants and grasses in meadow gardens but are also a great addition to butterfly gardens and traditional perennial borders.  These herbaceous perennials are members of the mint family, with fragrant foliage and varying degrees of hairy leaves and stems.  They are generally 3-4′ tall and flower in shades of white and pale lavender in high summer to early fall.  Mountainmint grows in spreading clumps that are enlarged by runners; when they are happy, they can spread quickly, but the edges of the clumps can be easily managed by spading and pulling up the runners once or twice a year.
Some of the most commonly available species are listed below:
Pycnanthemum curvipes (Stone Mountainmint):  2-3′ tall.  Ovate silvery/green leaves with purple-spotted white flowers.  Native to rocky outcrops, bluffs, dry hillsides, open rocky woodlands and fields of the South Eastern United States.
Pycnanthemum flexuosum (Appalacian Mountainmint):  2-3′ tall.  Ovate green, hairless leaves with white/pale laender flowers.  Native to South Eastern United States where it occurs in a variety of conditions.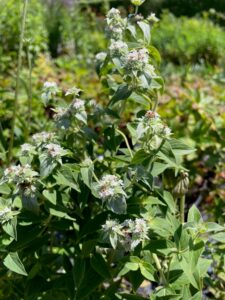 Pycnanthemum muticum:  2-4′ tall.  Ovate silver/green fuzzy leaves with pale lilac flowers and showy bracts.  Native to moist woods and meadows of the North Eastern United States.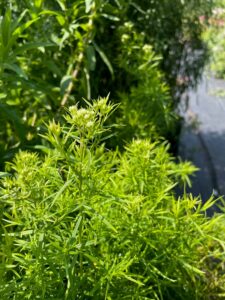 Pycnanthemum tenuifolium (Narrowleaf Mountainmint):  3′ tall.  Narrow green, hairless leaves with clusters of tiny white flowers.  Native to a wide variety of conditions in the North Eastern United States.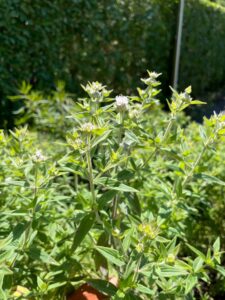 Pycnanthemum verticillatum var. pilosum aka P. pilosum (Whorled Mountainmint):  1-3′ tall.  Grey/green leaves with clusters of white flowers.  Native to forests and meadows of a wide swath of the Eastern and Central United States.
Pycnanthemum virginianum (Virginia Mountainmint):  2-3′ tall.  Narrow lance-shaped leaves with white flowers dotted in lavender.  Native to moist woodlands and wetlands of Eastern United States.