We love foxgloves.  These stately, nostalgic biennials have been a stalwart of the early summer cottage garden for ages. Their spires of unique, bell-shaped flowers bring a magical quality to any mixed planting.  On the island, they are equally happy in sun or shade.  The tall varieties tower over the back of the border, while the more compact selections are suitable to mingle with lady ferns and hostas at the edge of shady paths.
In recent years, there has been a break-through in hybrid foxglove.  DIGIPLEXIS is the result of an inter-generic cross between Digitalis and Isoplexis, a shrub indigenous to the Canary Islands.  The resulting hybrid retains positive attributes from both plants.  They bloom in their first year on well-branched plants, with a stunning depth of color for the entire summer!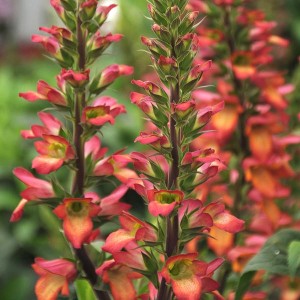 Digiplexis 'Illumination Flame' was the first on the scene.  Bred by Charles Valin at Thompson & Morgan in the United Kingdom, this plant bears many spikes of flame-colored flowers from late spring to fall.  The hybrid nature of this plant makes the plant sterile, so there is no fear of volunteers.  Although Digiplexis is technically a perennial, gardeners on Nantucket haven't had much luck wintering them over in the ground.  The best bet is to plant them as annuals and enjoy their stunning flower display for a summer, replanting them the following year.  They make a fantastic statement in pots, or in mixed perennial beds, where no other plant can perform quite as they do.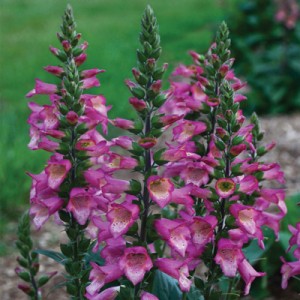 We've gotten more and more into growing at Surfing Hydrangea over the last few years, so I thought I would give Digiplexis a try.  We've grown a great crop of 'Berry Canary'.  This plant was introduced by Walters Gardens in the United States in 2014, and promises to be just as floriferous as the original.  The hot pink flowers on 'Berry Canary' have a creamy, speckled throat.  This selection is somewhat more compact than 'Illumination Flame', touted to grow only a few feet tall.  This more proportional habit may make it suit containers even better than 'Illumination Flame'.  We still have a few left, why not give them a try?!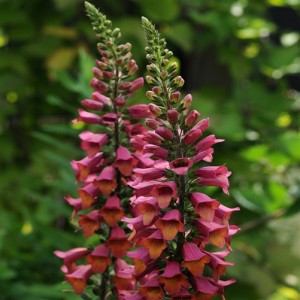 The popularity of this new plant has begun a breeding frenzy.  We expect to see more and more new varieties coming to market each year.  Check out the Foxlight series introduced last year.  We've got Foxlight Ruby Glow in stock as well.