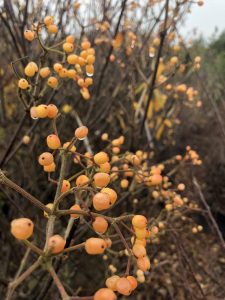 During the season, Surfing Hydrangea is a very busy place!  In order to keep the nursery full, we are constantly bringing in the staple trees and shrubs that landscapers are using day in and day out.  But luckily,  Craig is a plant geek at heart, just like me, so he also stocks a wide variety of lesser-known plants.  Over the last few years, we've been delighted to see a dramatic uptick in sales of our native arrowwood viburnum (Viburnum dentatum).  Arrowwood is a great shrub that can be used in a variety of applications, like medium-sized hedges and naturalized screening on property lines.  If you like the look of arrowwood, but want to try something a little different with showier fruit, check out linden viburnum (Viburnum dilatatum).  
This East Asian native has white lace-cap flowers and showy fruit in the fall.  The rounded/oval, toothed leaves are generally lustrous deep green with a quilted look.  Like many viburnums, Viburnum dilatatum grows well in evenly moist soils with average organic matter.  Plants thrive in full sun or part shade.  We have offered several cultivars over the years, some with red fruit, and some yellow.  Although this plant is self-fruitful, much of the literature mentions fruit set is improved with multiple varieties planted in close proximity.
'Asian Beauty' has vigorous upright habit (10′) with deep green, thick, shiny leaves during the growing season.  This variety has cherry red fruit.  Fall foliage is maroon.
Cardinal Candy tm aka 'Henneke' is a Proven Winners introduction.  This selection is listed as 5-6′ tall.  The large, bright red fruit contrast very well with the dark green leaves, and persist long after the leaves fall in autumn.  Cardinal Candy is purported to have a heavy fruit set without additional varieties planted for cross pollination.  Foliage is reddish orange in fall.
'Michael Dodge' is a stand out among viburnum, with bright yellow fruit.  This plant is said to grow 5-6′ tall.  Best fruit set is observed when planted with other varieties for cross pollination.  Fall color is reddish/orange.  Choose this variety over 'Xanthocarpum', an inferior yellow-fruiting variety, according to Dr. Michael Dirr.
Tandoori Orange is the first orange-fruited variety of linden viburnum.  This Proven Winners selection is similar to Cardinal Candy tm, and a good pollinator for other linden viburnum selections.
We have some stocky field grown 'Michael Dodge' and 'Asian Beauty' on the ground as well as some nice container grown Cardinal Candy tm.  We'd be happy to show them to you.