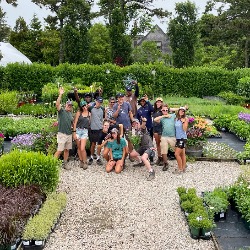 Surfing Hydrangea Nursery has a fantastic staff with a wide variety of experience in the green industry.  Our friendly team sources, maintains and sells the finest plants for Nantucket and wants you to succeed in growing them.  Need a little guidance with a new design? Not sure which plant to grow in a difficult spot?  We are happy to share our years of experience and horticultural know-how with you.  We love what we do, and look forward to helping you with your island landscape.  If you would like to get to know some of us a little better, check out a few biographies below.
Meet Our Landscape Professionals
---

Craig Beni

Founder and President

I grew up in the Hudson River Valley of New York and spent summers on Nantucket with family throughout my youth. After graduating from Middlebury College in 1996, and spending a brief stint working at my brother's landscape construction firm, I started Surfing Hydrangea Nursery. During that first season in 1998, there was little more than a corded phone mounted on a pitch pine, a folding table and a slowly increasing collection of plant material. Nevertheless, it soon became clear that there would be an available niche on the island to supply fine quality landscape plants. I have remained deeply involved in all aspects of the daily operation at Surfing Hydrangea throughout its growth and especially enjoy the purchasing of plant material from fine suppliers all over the country. In horticulture and business, there is a never ending array of knowledge and expertise to be gained through study and observation – This keeps the job forever interesting and challenging. When not at the nursery, I can usually be found trying to keep up with my wife and three daughters…It's not an easy task!  We love taking advantage of all this little island has to offer.

One of my favorite plants is Ilex opaca – American Holly. This berry laden evergreen helps bring life to the winter landscape and adds structure throughout the year. It is deer resistant, versatile and improves with age to become a stately tree.

---

Jocelyn Beni

General Manager

I grew up in Lexington, Massachusetts and vacationed on Nantucket in the summer. After graduating from Middlebury College in 1997, I spent a few years living in Boston working at a consulting firm. I returned to graduate school at Tufts University and received my Masters in Education and Massachusetts Teaching License in Elementary Education in 2002. I have been involved at Surfing Hydrangea Nursery since the early days and have become increasingly active since becoming a mother of three Nantucket natives; ages 9, 14 & 16. I concentrate on the office work of the business, including, but not exclusive of, payroll, accounts receivables, billing and any human resources issues for our close to 20 employees. It is amazing to see how the Nursery has developed over the last 25 years!

I have three favorite trees: the Sugar Tyme Crabapple, Seven Son Flower & the Venus Dogwood. Each of these trees blossoms at the same time of year my daughters were born. Tradition in our family is that a tree is planted on their first birthdays. Here are more details on these trees: Malus x 'Sutyzam' – Sugar Tyme Crabapple – Late May flowers open from pink buds to fragrant white blossoms. Red fruits develop heading into fall and persist into winter on a well, but irregularly, branched tree. Heptacodium miconiodes – Seven Son Flower – White September flowers are followed by purple bracts. This multi-stemmed tree also features peeling tan bark and excellent fall color. Cornus x 'Venus' – Venus Dogwood – Huge white flowers/bracts from late June into early July. It's perhaps the largest of any dogwood. This tree also exhibits strawberry like fruits and excellent foliage color in the fall."

---

Brad MacDonald

Manager of Nursery Operations and Sales

I was born and raised on the North Shore of Nova Scotia, Canada. After high school, I moved to Prince Edward island where I earned a diploma in Culinary Arts and a Certificate in Pastry Arts at the Culinary Institute of Canada in 1999 and 2000. I was recruited right out of school to work on Nantucket for a successful island caterer. After a few years in hospitality I was more than ready to get out of the kitchen and shift careers.

Today I would call myself a professional gardener turned plantsman. I started working in the green industry in 2003 when I took a job working for a small Mom and Pop gardening company. Over the years I moved up the ranks in several different positions in other island landscaping companies. My horticultural knowledge is gleaned from hands on experience and a lot of reading. I was proud to earn the Massachusetts Certified Horticulturist title and the NOFA Organic Land Care Certification as well as a certificate in Landscape Design through distance education.

I joined the team at SHN in 2010 and haven't looked back. I am able to share my understanding of the challenges of gardening on Nantucket and broad knowledge of the best plants for the island with our customers. In 2014 I spearheaded the installation of the first greenhouse at Surfing Hydrangea. I continue to grow my knowledge of horticulture as the man in charge of on-site growing and plant maintenance at the nursery.

A favorite deer-resistant plant of mine is Autumn Fern, Dryopteris erythrosora. The young bronze foliage of this stately evergreen fern contrasts beautifully with the mature glossy green leaves. Plant it in a shady spot in the garden with Brunnera, Japanese forest grass and Siberian iris.

---

Ashley Twiggs

Senior Sales Associate

I grew up in Bristol, CT and have lived on Nantucket for 8 years.  My degree is in Visual Fine Arts, and I am currently studying Horticulture at Oregon State University. After working as a seamstress on island for over 10 years (including many summers before I actually moved here), I decided I needed a change and found myself at SHN!

My tasks at the nursery change by the season. I help to train most of the new sales staff each year, help with paperwork for incoming plants, and of course I love to help customers. My favorite part of nursery work is learning about each of the plants that we sell. Currently, my favorite plant at the nursery is Gladiolus – on the rare occasion that I can convince Brad to order them.

When not at the nursery, I love hiking more than anything else. I also enjoy reading, cooking, and gardening in my spare time.

---

Allison Gayo

Senior Sales Associate

I grew up in Northern New Jersey and studied at Vassar College, in the lush Hudson Valley of New York, where I received a Bachelor of Arts in Psychology. At Vassar, I found my passion for the natural world, running and exploring the wooded trails around campus and while working at a local farm dedicated to community, education, and food justice.

After graduating in 2014, I landed on Nantucket to teach environmental education at the Maria Mitchell Association and quickly fell in love with the magic of the island community.  Like most islanders, I have woven several work experiences into my life- teacher, barista, therapeutic mentor, art instructor, farm volunteer. In 2017, I found Surfing Hydrangea through lovely friends who were working at the nursery at the time. The calm of caring for and being surrounded by plants drew me in. Now, I am proud to be part of the Sales team at Surfing Hydrangea and continue to connect people and plants.

I love so many plants, but my favorite at the moment is Calamintha nepeta, a perennial herb of the mint family that is native to Europe and the Mediterranean region. Calamintha is a popular deer-resistant perennial at the nursery and for good reason! It is both hardy and beautiful, with clouds of tiny tubular lilac to white flowers that bloom June through September. Calamintha is a stellar drought-tolerant addition to your garden, to attract bees and other insect pollinators.

Monarda (bee balm), Eutrochium purpureum (Joe Pye weed), Hibiscus moschuetos (swamp rose mallow), Persicaria and Buddleia are among my other favorites for vibrant color, flowers, and textural interest in the garden.

After work, I enjoy tending to my community garden plot, bike rides, yoga and dance classes, cooking, and reading at the beach.

---

Harrison Holdgate

Sales Associate

I was born and raised on Nantucket and with my previous gardening experience, found myself working at the nursery in 2021.

I studied history, specifically the Middle Ages of Europe, Middle Eastern history, and the Antebellum to Postbellum period, at UMass Amherst. After graduating in 2022, I moved back home. Drawn to the lovely people at the nursery, I most enjoy the coworkers I have. My primary tasks are largely assisting Craig, followed by sales and general plant care. I enjoy the beauty found in my everyday work, and the feeling of seeing my effort manifest into actual visible results with lasting effect.

My favorite plant is the Sciadopitys, or Japanese umbrella pine, but is probably followed by the Fagus sylvatica 'Pendula,' the weeping beech tree. At home, I enjoy reading and cooking, but I also love going to the beach and going on walks in the woods and mountains (off-island).