Working at the nursery as long as I have, there aren't a lot of landscape plants suitable for Nantucket that I'm not familiar with, so I'm always pleased when I have the opportunity to learn something new.  Last fall, a customer asked about sea buckthorn, a plant I have absolutely no experience with.  After a little research, I think it might be a useful plant for some of the islands' challenging sea-side properties.  We brought some in for a job this spring, and decided to order some extra for stock.  This plant should be a good choice for growing in close proximity to the shore, where soils are extremely sandy, drainage is excellent and sun is plentiful.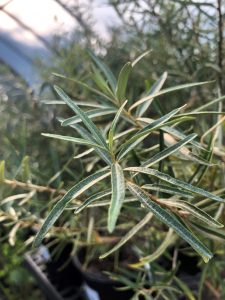 Hippophae rhamnoides has abundant grey/green, skinny leaves on thorny, branches.  Their habit is variable, sometimes reaching the size of a small tree, but they often treated as rangy shrubs.  The plants I have seen growing on Nantucket look quite a lot like Russian olives, although spinier and with narrower leaves.  These plants are dioecious, meaning that there are separate male and female plants.  If female plants are pollinated by males, they will have an abundant fruit set of small, yellow/orangy berries.  Native to the Northern regions of Europe, Asia and North America, sea buckthorn it is extremely cold hardy and can be expected to survive during prolonged periods of extreme cold.
There are many varieties in cultivation.  We're currently stocking 'Chuysaka', 'Hergo' and 'Juliet'.