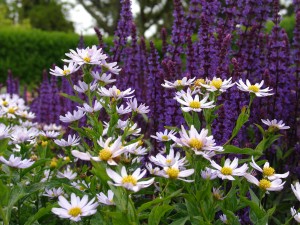 Most gardeners know the benefits that pruning provides trees and shrubs.  Less of us know how useful different pruning techniques can be for perennial plants.
Exceedingly tall or leggy perennials are one of the first groups of plants I think of that benefit from a quick shearing in early summer.  Eupatorium purpureum (Joe Pye Weed), for example, will grow upwards of 9′ tall, making it appear out of scale with smaller plants like Rudbeckia, Sedum, or Salvia. Cut it back by 1/3 in mid to late June to reduce the flowering height and create much fuller plants.
Another benefit of pruning perennials is delayed flowering.  Leucanthemum maximum 'Becky' (Shasta Daisy) is a popular plant on the island.  Shearing the plants at the front of a mass planting in late spring creates a tiered effect with taller plants flowering first at the back and shorter plants flowering later in the front.
Pruning can also be used to avoid some common issues with mounding plants.  These plants can fall open in the center as flowering peaks.  Nipponanthemum nipponicum (Montauk Daisy) is notorious for this problem.  Shear or pinch it a few times before mid-summer and you will be rewarded with a plant that holds its flowers in a compact mound.
A complete list of perennials that can be pruned in a variety of ways is available in Tracy DiSabato Aust's book The Well Tended Perennial Garden: Planting and Pruning Techniques from Timber Press.  Tracy's book is available at island book stores. But by all means, experiment!  If you remember a plant that tends to be leggy in your garden, it won't hurt to pinch back a few stems and see what happens!  If you would like to enjoy your flowers a few weeks longer than last year, try shearing one plant early on to see how it reacts.
Happy Gardening!