Bluestar is one of my favorite plants of all time.  I like them because they are easy to grow with few, if any, pest and disease issues.  If sited correctly, they are super low-maintenance – just cut them down along with your other perennials at the end of the growing season or in early spring.  They have beautiful flowers, but also look great before and after flower, with disease-free green foliage in summer and yellow fall color.  Their bitter latex sap is said to make them unpalatable to deer (but the deer at 91 Somerset Road seem to like them just fine).  Several species and selections are available, each with its own characteristics.
Amsonia are long-lived herbaceous perennials that are native to the southern and south eastern United States.  Found in open meadows and fields as well as near lakes and wetlands, they tolerate a wide range of growing conditions.  In part sun, they tolerate less water, but planted in full sun, they benefit from consistent moisture.  Although they prefer fertile, well-drained soil, I've had good luck planting them in average garden soil with no additional fertility.  If the taller varieties are planted a shadier spot, they may benefit from a trim after flowering to promote a stockier habit that won't flop open.
Their common name, bluestar is the perfect description of their flowers.  In late spring / early summer, these plants produce clouds of delicate, periwinkle blue, star-shaped flowers, each with five petals.  They don't require deadheading, and look clean and tidy as the flowers fade.  These plants are right at home in the perennial border, but are also workhorses in prairie or meadow-style gardens.  The narrow-leafed varieties 'String Theory' and hubrichtii, in particular, contrast beautifully with bolder flowers like Echinacea, Shasta daisies, Black-eyed Susan's, Crocosmia and the like.  Planted in a bright woodland situation, they would be excellent companions to Hostas and Heuchera as well.
The following plants are most commonly available:
Amsonia tabernaemontana:  Eastern Bluestar – 2-3′ tall and wide, with ovate leaves.
Amsonia tabernaemontana 'Blue Ice':  More compact than the species at only 12-18″ tall and 18-24″ wide.  Deep blue buds and lavender flowers.  Ovate leaves.
Amsonia tabernaemontana 'Storm Cloud': This Proven Winners selection emerges with near black stems and deep green leaves.  24″ tall by 38″ wide at maturity.  Periwinkle blue flowers.  Stems become green as season progresses.  Ovate leaves.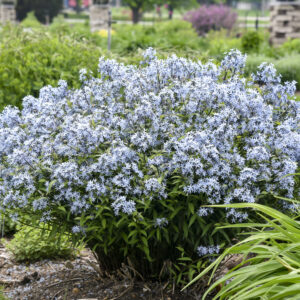 Amsonia x 'Starstruck': This hybrid bluestar blooms up to 2 weeks later than 'Storm Cloud'.  It's also more compact at 20″ tall x 30-38″ wide, with broader ovate leaves.
Amsonia hubrichtii:  Thread-leaf bluestar.  Narrow leaves appear needle-like, but soft and fluffy.  2-3′ tall.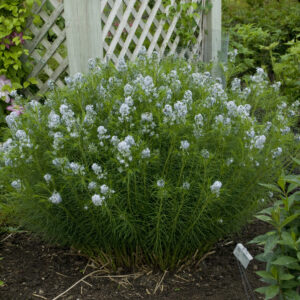 Amsonia x 'String Theory':  A Proven Winners introduction.  Much like A. hubrichtii, but more much more compact.  18-22″ tall x 30=36″ wide.