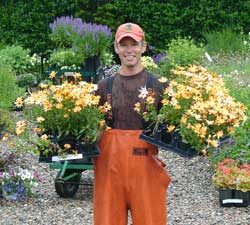 Surfing Hydrangea Nursery has been in the business of selling plants since 1998.  During that time, the nursery industry as a whole has changed considerably.   These changes have affected the entire supply chain for plants, starting with liner producers and ending with re-sellers like SHN.  Commercial growers have seen increasing costs make their operations less profitable.  Prices have slowly increased over the last 5-6 years, but not as quickly as costs have mounted.  Most recently, limited supply has given growers the confidence to increase prices.
Many of our customers are surprised by how expensive plants are.  Others wonder how we are able to keep our prices comparable to other markets in the North East like Boston and New York.  The truth is, that we price our plants based on how much we pay for them and adjust for the cost of shipping and labor.  It is important to us to keep our pricing stable and fair.  We work hard to cultivate strong relationships with our suppliers through an ability to purchase volume and pay quickly.  These relationships often allow us to keep prices from increasing when other outlets are forced to charge more.
All that being said, prices are definitely on the rise industry-wide.  Some vendors have nearly doubled their prices on field-grown trees since 2010, when they were at their lowest during the recession.  At that time, many tree farms abandoned a huge amount of growing acreage and ceased planting liners for future harvest.  With fewer woody plants being grown, there has also been a drop in the production and availability  of liner plants.  This overall decrease in infrastructure has begun to limit supply.  Labor and shipping costs have also gone up.  All these factors create a climate where price increases are inevitable.
We work very hard to keep stocked up during the entire season and to have those items which may be in short supply.  Our goal is always to provide the highest quality plants at prices that reflect their value.  We expect to increase prices over time, but only to keep pace with what is happening in the nursery industry at large.
Spring shipping has begun and a great line up of new material is rolling into the yard at a fast and furious pace.  We hope that Surfing Hydrangea will be your first choice for plants in 2017!