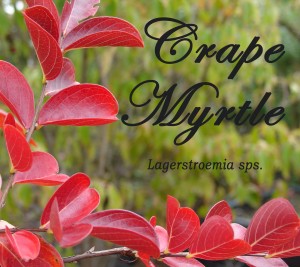 There are very few trees that can put on a show quite as spectacular as a Crape Myrtle.  They range in size from miniature shrubs, suited to container gardening, to medium-sized trees.  They have lustrous, dark green leaves and huge flowers that can be seen from quite a distance when they cover the whole canopy in late summer and early fall.
My first experience with Crape Myrtles was in Florida many years ago.  I remember thinking that the trees in most of suburbs looked like they had been plucked out of a Dr. Seuss book!  In that part of the country, these trees are often drastically pruned into wacky shapes.  That's not my favorite look, but it's definitely an option.
I've gained a wider appreciation for Crape Myrtles after noticing several of them around Nantucket town.  When left to grow in their natural shape, they are quite elegant.  As these trees size up, their bark begins to exfoliate, sloughing off like cinnamon sticks and leaving behind a beautiful mottled pattern.  They are often grown with multiple trunks to best display this attribute.  Their canopy is most often vase-shaped or rounded, sometimes reaching as wide as they are tall.  If careful pruning is done, the branch structure itself can be a lovely feature.
And then there are the flowers.  Botanists refer to their shape as paniculate; meaning there are many individual flowers all connected to a main stem in the middle by individual little stalks, very much like a PeeGee Hydrangea flower.   They come in an array of colors mostly in shades of red, pink, purple, and fuchsia.  There are also white cultivars for those who prefer a quieter statement in the garden.  Flowers are borne on new wood and appear in late summer and early fall, just as many high summer perennials are getting tired.  By the end of September, the flowers fade but are still of interest as their tiny fruit cling to the bare panicles.  Later on, they wake up the garden all over again as their leaves change to hues of red and orange before falling to the ground as winter sets in.
Crape Myrtles perform well on Nantucket with some shelter from harsh winds.  They are considered marginally hardy here, but I've seen many in town that are a great many years old and doing well.  During prolonged cold winters, they may experience some die-back in the canopy, but they rebound very quickly once summer arrives.  If you have a sunny spot with reasonably good soil, a Crape Myrtle is a great way to add some spunk to your garden.
Check out our Crape Myrtle Pinterest Board for photos and more information on cultivars we've carried in the past.