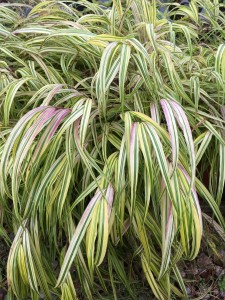 So much of high end gardening on Nantucket is focused on flowers and summer color.  Although I appreciate a vibrant border filled with energetic plants, I am also a big fan of creating a restful space in the landscape.  A shady area in the garden can be the perfect place to do just that.  The pallet of plants used in a calming garden design is very important.  Often these gardens rely less on flowers and more on foliage and texture.  Japanese forest grass, Hakonechloa macra is one of those plants that can really tie a shady garden together.
It's graceful form reminds me of waves cresting on the shore or even water cascading over a boulder in a rushing river.  The texture of the texture of the arching blades contrasts extremely well with Hostas, a shade garden staple.  There are several cultivars of Japanese forest grass available for sale. The plain green, species form is seldom used here, but it is beautiful in its own right and could be used in a garden already has some variegated plants.  On the flip side, the variegated cultivars, like 'Albovariegata' and 'Aureola' are striking next to large blue or green Hostas, Brunnera or Elephant ear.  There is even a variety called 'All Gold' that has almost no green in the leaf at all, appearing yellow.  Just be careful, I would suggest using yellow and variegated plants sparingly.  They bring some light into a dark space, but overdone they can ruin the calm feeling that is often the theme of a shade garden.
Are you sold yet?  I hope so!  Japanese Forest Grass is very easy to grow if given the right conditions.  Plant them in filtered light or dead shade in well-drained soil rich in organic matter.  When they are happy, they will slowly spread by underground rhizomes and above ground stolons.  This growth pattern allows individual plants to knit together to form masses.  The cultivars differ in height and spread; height is also effected by the length of the growing season.  'Albovariegata' may get 2.5-3′ tall in Oregon, for instance whereas it is only 1.5′ tall in our garden.  All that being said, count on 'Albovariegata' being the tallest and 'All Gold' being the shortest.