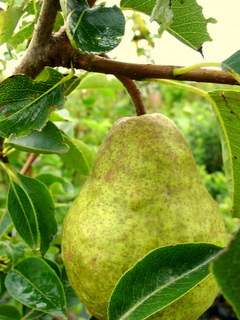 We sell hundreds of ornamental trees on Nantucket every year.  And as much as I love selling majestic Elms, elegant Styrax and the like, I have a special place in my heart for fruit bearing trees.  There is something really exciting about being able to grow fruit for yourself.  Pear trees, in particular, seem to be very rewarding.
Pears grow well when planted in full sun in average to fertile soil that is well drained.  Like other fruit trees, they require a little care and benefit from a spray program to control certain pests.  But if well cared for, a good crop is within the reach of any home gardener.
Similar to apples, European pears require more than one variety to ensure proper pollination.  If a pollinizer is not planted within 100 feet of the desired variety, the crop is likely to be very small or non-existent.  The standard pear for flavor and texture is 'Bartlett'.  This variety is properly pollinated by 'Bosc'.   'Sekel' another common variety, will not pollinate 'Bartlett', so be sure to add a third variety to your yard if you want to try 'Sekel' as well.
All that being said, Asian pears are self-fruitful.  So if you only have room for one fruit tree, try an Asian pear.  These are the round, brown varieties that are found year-round in the store.  They tend to be very crisp, but have less flavor than European pears.  Although less hardy than their European cousins, they should do well on Nantucket due to our mild winters.
Standard pear trees can get quite large.  Luckily, the fruit trees we sell are generally semi-dwarf.  This means that one can expect our fruit trees to mature at about 20 feet.  The smaller size makes these trees easier to spray, prune and harvest.
-Brad MacDonald