Weigela florida 'Alexandra' sold as 'Wine and Roses' under the Proven Winners line of plants is in full bloom here at the Nursery.  If you like drama in the garden, this is the plant for you! The striking combination of rosy pink flowers and deep wine-colored foliage is a great addition to the shrub border or in a large pot.  This Weigela blooms heavily in early summer and will rebloom throughout the summer. 
Deer and drought resistant, with no pest problems to speak of, Weigela 'Wine and Roses' is a very low maintenance shrub that packs a punch!
---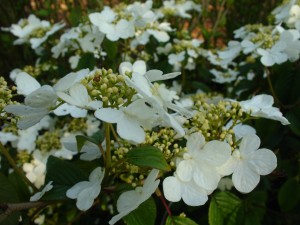 Today it feels like Spring has really set in on Nantucket!  'Kwanzan' cherry trees are in full bloom accross the island, giving everyone the feeling that Summer is also right around the corner!  It's exciting to see perennials and annuals filling up the courtyard, but if your landscape still needs a few more "Bones" it is prime time for planting Spring flowering shrubs.
Early Spring shrubs like Hamamelis vernalis (Witch hazel), Pieris japonica & floribunda (Andromeda), Mahonia aquifolium (Oregon Grape), Spiraea 'Ogon' and Forsythia are now giving way to mid spring and early summer bloomers.  The next wave of color will come from Kerria japonica, Prunus maritima (Beach Plum), Azaleas, Rhododendrons and Viburnums like V. x carlcephalum and V. carlesii .
The final days of spring are ushered out with Lilacs.  Syringa vulgaris, the common lilac has stunning flowers with unmatched fragrance.  But don't discount the smaller-flowered varieties.  Syringa patula 'Miss Kim' is an excellent landscape plant for Nantucket, resistant to powdery mildew and tolerant of more extreme conditions than others.
---
---
---
---
---
---
---
---