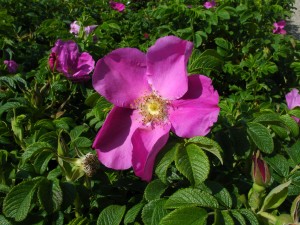 The common name of this popular plant is Salt Spray Rose. The Latin name refers to its wrinkled leaves. Growing wild in the dunes, in commercial landscapes and in home gardens, it would be difficult to visit Nantucket without seeing at least one! They are so widely visible on the island that some have presumed them a native species. In fact, they naturally grow in the sandy coast land areas of Japan, Northern China and Korea. They were introduced to North America from Asia as early as the 1700's, but more likely in the 1840's.
These shrubs can be used for a variety of landscape applications. They make a great short hedge, as can be seen along Baxter Road in 'Sconset. Their tendancy to form colonies lends them very well to mass plantings. They look great in the distance, at a boundary, or up close in a driveway circle. And, as one might imagine, they can do a great job of stabilizing sandy slopes, while tolerating salt spray and wind extremely well. Like other roses, they prefer full sun, and well drained, sandy soils, with some organic matter.
Although Rosa rugosa thrives on neglect in the dunes along our shores, they require some maintenance to look their best in a more structured setting. Pruning is best done when the plants are fully dormant and the leaves have fallen. If you have many to prune, invest in a heavy set of leather gloves. Their tiny spines are notoriously irritating to landscapers and home gardeners alike. To maintain a dense, mounded shape, cut the entire plant to knee-height. This is easily accomplished with hedge trimmers or with loppers and hand pruners. Remove any obviously dead canes at ground level.  Wayward suckers can be lopped off, right next to the mother plant. Rosa rugosa hedges should be left to reach their natural height, by only removing dead branches and giving them a light shaping. During summer, lightly nip any stems that grow toward the lawn.
There is no need to deadhead Rosa rugosa — the edible hips that form just below the spent flowers bring their season of interest well into fall, and provide food for wildlife.
Rosa rugosa is free of most porblems associated with other roses, but there are some pests that use them as a food source. Deer will eat them, especially during their spring flush of growth. Deer sprays are a help to keep the damage to a minimum during the summer.  And a good fence during the shoulder season might be necessary in areas where deer are especially troublesome. Japanese beetles will congregate on Roses off all types and can completely defoliate plants in a matter of days.  Hand-pick and destroy the beetles in the morning or spray them directly with a Spinosad product.
Rosa rugosa is certainly one of Nantucket's most popular plants. Why not use them in your next project, or try a few in your garden? We offer an ever-changing selection of cultivars and hybrids, from the common to the more uncommon. We would be happy to help you select a variety that suits your taste!