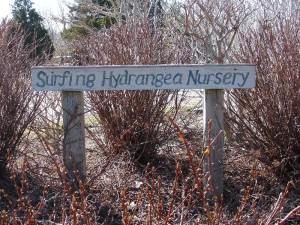 Ammophiila breviligulata.  This is the native beach grass used to stabilize and beautify dunes and other stretches of very sandy soil.  Because beach grass is usually used in large quantities, it is most often planted as either bare root (culms) or small rooted plugs.
Availability for bare root material is restricted to times when it is completely dormant; In the spring March though mid May and after mid September in the fall.  The stalks are typically planted at a rate of 2 per hole with 1 foot square spacing.  Rooted plugs are actively growing and make a quicker initial showing, at a slightly higher cost.  They are also planted at 1 foot square spacing, at a rate of one per hole.  6 inch pots and one gallon pots are sometimes available.
Of course, any of these can be planted more densely, which is recommended in high erosion situations.
In all cases, the root zone of the grass must meet moisture to grow.  Because of the sensitivity of coastal environments to over-fertilizing, no fertilizer is recommended for beach grass when planted in an area where it would be native.
Beach grass may also be inter-planted with other native species to increase beauty and biodiversity.