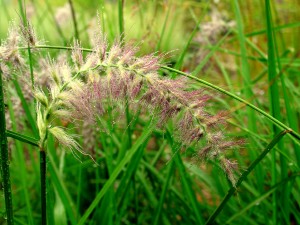 Ornamental grasses continue to gain popularity. Even ten years ago, there were only a few varieties available, and even fewer gardeners who planted them. Today, there are hundreds of named cultivars, giving gardeners a wide variety of forms to chose from.
Fountain grasses are widely adaptable, rounded, clump-forming grasses. They are easy to grow, very deer resistant, and not bothered by insects. They look great as accents in containers, as mass plantings, or in mixed borders. The mounded shape is punctuated by bottle-brush shaped flowers from mid summer to fall.
Some notable varieties and their attributes are listed below:
•P. alopecuroides: The species form of hardy fountain grass. Tallest of the commonly available fountain grasses at 4′ tall. Flowers appear in late summer.
•P. alopecuroides 'Hameln': Referred to as a dwarf, this plant still reaches a solid 3′. Flowers appear in mid to late summer, before the species.
•P. alopecuroides 'Little Bunny': There are more and more truly dwarf fountain grasses becoming available. 'Little Bunny' originated as a seedling of 'Hameln', and is now widely available. It only grows to 18″. Flowers in Mid to late summer.
•P. alopecuroides 'Maudry': One of the latest blooming fountain grasses. Tops out around 2′. This cultivar has somewhat wide, deep green foliage. Nearly black flowers appear in October on short, stocky stems. Tends to self-sow.
•P. orientale 'Karley Rose': Early blooming variety with pink plumes. reaches 3′ tall and 2′ wide. Flowers begin appearing in July and continue through fall.
•P. setaceum 'Rubrum': Annual Red grass. Blades are entirely burgundy in color. 5′ tall x 3′ wide, with stunning plumes in late summer that arch above the foliage.