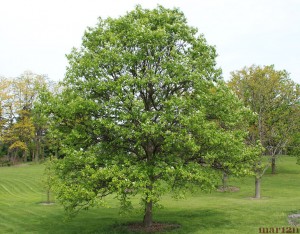 There are few trees that have such a long recorded history as the Oak. And it's no wonder, considering that oaks are one of the longest living trees in the Northern Hemisphere. Astonishingly, the "Major Oak" growing in Sherwood forest in Nottinghamshire, England is touted to be between 800 and 1000 years old! There is a long standing tradition that Robin Hood actually used the tree as a hiding place while on the run from the Sheriff of Nottingham! Isn't that cool? Yes it is!
Most oaks prefer slightly acidic, evenly moist, average soil. They are not generally fast growing, but eventually can become very large. The species following are all considered large trees when mature, and are often planted in parks and larger landscapes off island. Luckily, as with many trees, there are cultivars that will fit into smaller gardens. Upright cultivars like 'Fastigiata' and Regal Prince (r) are equally hardy and perform well on Nantucket
Sawtooth Oak, Quercus acutissima is a broadly pyramidal tree that might reach 40 to 60 feet tall on the mainland, likely somewhat shorter on Nantucket. It's leaves don't have a classic oak shape. They look much more like hornbeam or beech tree leaves to me. They open yellow in spring, mature to a glabrous green in summer and, in good years, will turn a clear yellow in November, before aging to tan. They are very easy to grow and resist pests and diseases. Like all oaks, they are slow to mature, and juvenile trees will tend to hold their leaves all winter. Sawtooth Oak can produce very heavy crops of acorns, and they are generally the earliest to ripen of the genus.
Swamp White Oak, Quercus bicolor, is a broad tree tree that will reach 50 to 60 feet tall on the mainland. The overall shape is a wide, round-topped crown, with a short trunk. The leaves of this species are much more recognizable; deep green, lustrous and lobed, with a grayish fuzz on the underside. Naturally occurring in moist areas with acidic soil, they are an ideal tree for a low area on your property in need of a majestic shade tree.
English Oak, Quercus robur, is also a broad tree with a height and spread of 40 to 60 feet on the mainland.  The canopy is broad and rounded. The dark blue/green leaves of English Oak have a typical Oak-shape,  with rounded lobes.
Quercus robur 'Fastigiata' is an excellent   upright cultivar  that will grow very tall, but only 10-15 feet wide.
We have also stocked Regal Prince (r), which is a hybrid between English and Swamp
White oak.  This particular variety is touted to be very tight, almost oval in habit.