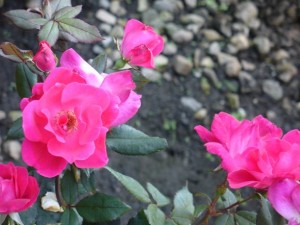 Although roses have a reputation of being difficult to grow, there are many roses that will perform even under less than ideal conditions with minimal care.
"Landscape Rose" is a general term for shrubs that bloom over a long period, are disease resistant, have attractive foliage, will perform in a range of soil types, and don't require loads of specialized pruning to look great for the entire growing season. Roses like this can be used as focal points in a mixed border, or as mass plantings. They are also a good choice as the central player in large containers. Some of the most common are:
'The Fairy' – a light pink double-flowered shrub, introduced in 1932
'Bonica' – a medium-pink, double-flowered shrub, introduced in 1985
'Knock Out' Series – The original is cherry red, and now this popular series offers 'Double Knock Out', 'Sunny Knock Out', 'White Out', 'Pink Knock Out', 'Pink Double Knock Out', 'Blushing Knock Out' and 'Rainbow Knock Out'
'Home Run' – a medium red single-flowered shrub introduced in 2006
We regularly carry these roses and our inventory is constantly changing. Please inquire as to what we have in stock. If you need a particular variety, stop by and make a request, we are always happy to order any rose that is available for our customers.